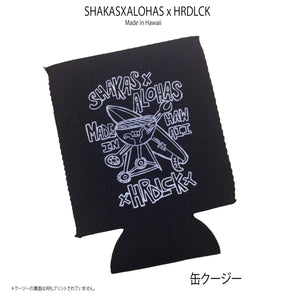 [Shakas x Alohas] x [HrdLck] SHAKA BBQ SURF COLLABO (コラボ 缶クージー) 『ブラック』
[Shakas x Alohas] x [HrdLck] (シャカス x アロハス x ハードラック) SHAKA BBQ SURF COLLABO (シャカ BBQ サーフ コラボ 缶クージー) 『ブラック』です。
ハワイにあるSURF & SKATEショップ "BLUE HAWAII" で働いているハーレー好きなロコスケーター達の兄貴的存在RODのブランド "SHAKAS x ALOHAS" とRODのサーファーの友人がやっているHrdLckというブランドのコラボのグッズ...SHAKA BBQ SURFのオリジナル缶クージーになります。
SHAKAS X ALOHAS の企業理念宣言
SHAKAS X ALOHAS IS ALL ABOUT BBQ'N WITH FRIENDS AND OHANA, AND BRINGING PEOPLE TOGETHER. WE LIKE TO GRIND (EAT), SUCK'EM UP (DRINK), AND TALK STORY. OUR SHAKAS X ALOHAS TEES ARE PRINTED ON A HANDMADE PRESS AND SCREENED ONE TEE AT A TIME FOR YOU RIGHT HERE IN HAWAII! EACH TEE WILL VARY FROM THE OTHER BECAUSE OF THE PROCESS BUT YOU CAN BE ASSURED THE SAME AMOUNT OF ALOHA WENT INTO PRINTING YOUR SHIRT. PLEASE ENJOY SHAKAS X ALOHAS AND WEAR IT TO ALL OF YOU AND YOUR OHANA'S BACKYARD BBQ'S. YOU ARE NOW A PART OF OUR SHAKAS X ALOHAS OHANA! MAHALO (THANK YOU) FOR SUPPORTING LOCAL AND SUPPORTING SHAKAS X ALOHAS!
HrdLck mission statement(ハードラックの企業理念宣言)
Born and bred into a nothing comes easy Hawaii lifestyle. We at Hrd Lck surround ourselves with a humble and hard working positive attitude towards friendship, family and the ocean. It's not the life we choose, it's the life we learn to love. Blood, Surf, and Beers....don't threaten us with a good time!
色:ブラック
Item # SXA x HrdLck SHAKA BBQ SURF Coozie
サイズ: 350ml缶
一個の価格
【サイズ表記について】
*すべての商品は平置きにて採寸しています。
*商品の素材により、多少の誤差が生じる場合があります。また、洗濯により若干縮む場合もございますので、予めご了承下さい。
*商品画像は実際の色味と若干異なる場合もございますので予めご了承下さい。
注意事項:
*このオンラインストアで表示している価格には送料やPayPalの手数料などは含まれていないので合計の入っている確認メールが届くまで支払いしないで下さい。
*送料別になります。国内の発送は基本的に着払いで発送しますが、国際発送はEMS(Express Mail Service)になります。